Mas Korima to again support the Ultra Maratòn Caballo Blanco events.
January 23rd, 2017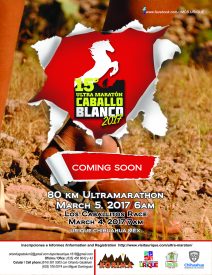 Scottsdale, Arizona / Urique, CHIH – 
Mas Korima announces sponsorship and support for the Ultra Maratòn Caballo Blanco 2017 and the Los Caballitos Run.
"We are excited to once again journey down to the Copper Canyons and run with our Mas Loco family," says Mas Korima team member Patrick Sweeney.
"The Ultra is something special to participate in, and for many truly one of the top bucket list experiences for endurance runners.  For me personally, the run taking place the day before the Ultra, the Caballo Blanco Kids Run (Los Caballitos Run) may be my favorite event of the year.  The Ultra will have up to 700 incredible runners, but the kids event can have even more young athletes giving their all on the streets of Urique.  It is truly an unforgettable experience and we are excited to be there and support the kids for the run and the after party."
Micah True (Caballo Blanco), with support from his many Canyon friends, started this special event so many years ago, and this will now be the 15th anniversary.  Since that first run, the UMCB week has brought about many, many magical experiences for visiting Athletes, the community of Urique, and the indigenous Raramuri peoples.
The event is very important to all who call the Barrancas home.  Mas Locos, Norawas de Raramuri, Luna Sandals, Mas Korima, and so many others are doing all they can to support the week's events and the community in general to ensure Micah's simple "Run Free" Message continues to be shared and experienced.
Says Sweeney, "The best way for all of us to help is to come down to the Canyon, be with one another, run free, run happy, and carry that Message back on out of the Canyons." US based registration is now open on Ultrasignup.com
For more information visit www.maskorima.com. Contact team members on Facebook and Instagram
About Mas Korima
"Mas" Spanish for more, "Korima" Raramuri (Tarahumara) for sharing without expectation. We are a multi-cultural team that came together out of a large community of good-willed runners who met, bonded, and became family, in the magnificent Barrancas del Cobre of Mexico.  Mas Korima offers Heritage Pinole and Chia based Endurance Athlete Fuels inspired by and sourced from the lands of the world's greatest endurance runners. www.maskorima.com